How do you get paid?
Now, let's talk about how you will get paid on this site.
Once you complete a survey (this means you've qualified for the survey and finished answering the actual survey), you will get a reward into your Opinion Inn balance.
Once you've earned $25, you can then withdraw it via PayPal (refer to photo above). It's a pretty high threshold to reach, in my opinion. So, you will need to be a bit more patient.
Once thing you need to keep in mind with how you get paid on Opinion Inn is, the timing of crediting incentives depends on the survey. Some surveys will credit the incentives very quickly or within a few days.
While others will only be credited after the survey has closed. Generally, you can expect to wait for six to eight weeks from survey closure for points to be credited to your account. So, if you don't see the reward right away, that's just normal.
That being said, six to eight weeks is actually a long time to wait to receive your incentives. There are some sites that will pay faster. But anyway, they do say that this doesn't happen too often.
How much money can you make?
The amount of money you can make from a survey site can definitely become the deciding factor on whether you should join the site or not. Ideally speaking, you will want a site that will pay well. Not only that, you will want a site that also offers plenty of opportunities to earn.
These are the two main factors that determine how much you can earn. In Opinion Inn's case, they do pay rather decently. They say you can earn between 25 Cents and $20.00 for each survey you complete depending on the length of the survey and even in rare cases they pay up to $100 per survey.
Usually, it will, however, mostly be around $3 to $5 per survey. This is the more realistic range of rewards, in my opinion.
You can't really expect to earn $20 or more for a survey. In my experience, it rarely happens. I'm not saying though that it isn't possible. It's just that it is quite rare.
The availability of surveys, on the other hand, is a different story. There's really no guarantee that you will get a survey regularly. Plus, you will need to qualify to earn the incentive.
How many surveys you will get depends on the country you live in so whether it will be worth it or not will depend a lot on the country you live in (more about which countries you can join from later).
Can you use it on mobile?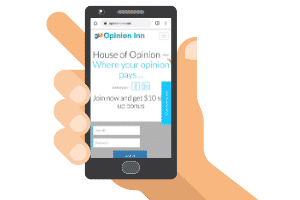 Opinion Inn doesn't have a mobile app you can download but you will be able to access their website from a mobile device using a mobile web browser. And the good thing is, their site is mobile-friendly, so it's fairly easy to navigate through the site.
Plus, the way their user interface is designed, it is certainly doable to answer surveys even on your mobile device. This makes it a lot easier for you to get to surveys as soon as possible.
Once you receive the notification (via email) that there's a survey available, you can quickly answer it even if you are not sitting in front of the computer.
This can be very useful since getting to the survey as quickly as you can, in my opinion, is really the difference-maker when trying to earn from a survey site.
How to join Opinion Inn?
If you want to register as a member, you can click the button below and you will then be taken to the registration page. The registration process is pretty simple so you will be able to start earning right away.
And you will get a $10 joining bonus into your account right after registration.